REDness
UUnet Buddha





426 Posts

Posted - 05/25/2010 : 4:29:15 PM



---
House Dance International 2010
THURSDAY, JULY 8 - SATURDAY, JULY 10, New York City

WORLD CLASS CHAMPIONSHIPS

House Dance | Vogue | Experimental | Waacking

Get info, tickets and register now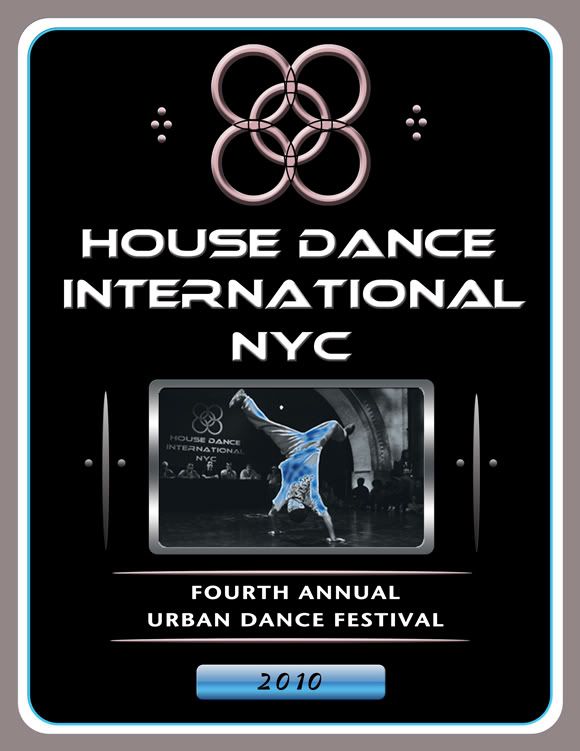 Regsiter Now: http://www.housedancenyc.com/registrationcompetition.html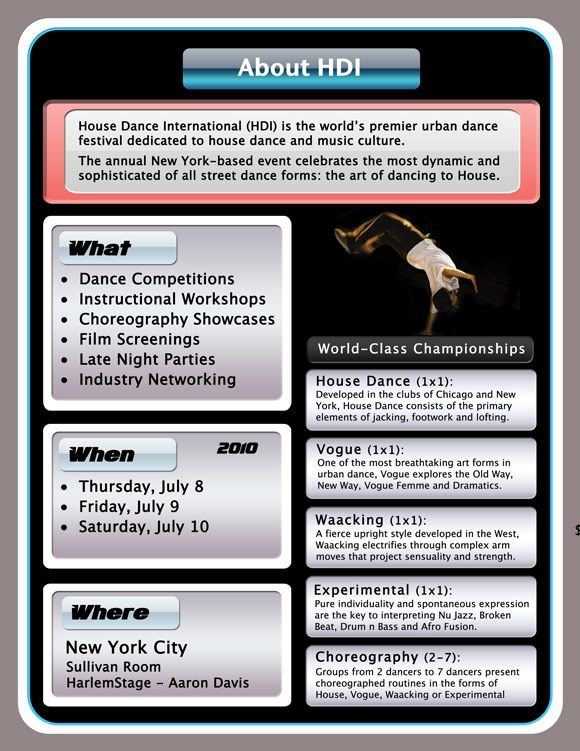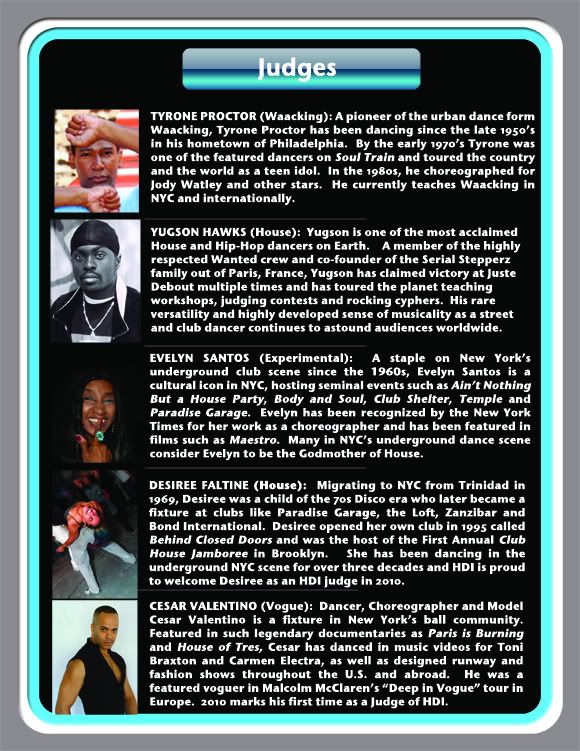 Judges

Tyrone Proctor (Waacking): A pioneer of the urban dance form Waacking, Tyrone Proctor has been dancing since the late 1950's in his hometown of Philadelphia. By the early 1970's Tyrone was one of the featured dancers on Soul Train and toured the country and the world as a teen idol. In the 1980s, he choreographed for Jody Watley and other stars. He currently teaches Waacking in NYC and internationally.

Yugson Hawks (House): Yugson is one of the most acclaimed House and Hip-Hop dancers on the Global scene. A member of the highly respected Wanted crew and co-founder of the Serial Stepperz family out of Paris, France, Yugson has claimed victory at Juste Debout multiple times and has toured the planet teaching workshops, judging contests and rocking cyphers. His down-to-earth style, rare versatility and highly developed sense of musicality continues to astound audiences worldwide

Evelyn Santos (Experimental): A staple on New York's underground club scene since the 1960s, Evelyn Santos is a cultural icon in NYC, hosting seminal events such as Ain't Nothing But a House Party, Body and Soul, Club Shelter, Temple and Paradise Garage. Evelyn has been recognized by the New York Times for her work as a choreographer and has been featured in films such as Maestro. Many in NYC's underground dance scene consider Evelyn to be the Godmother of House.

Cesar Valentino (Vogue): Dancer, Choreographer and Model Cesar Valentino is a fixture in New York's ball community. Featured in such legendary documentaries as Paris is Burning and House of Tres, Cesar has danced in music videos for Toni Braxton and Carmen Electra, as well as designed runway and fashion shows throughout the U.S. and abroad. He was a featured voguer in Malcolm McClaren's "Deep in Vogue" tour in Europe. 2010 marks his first time as a Judge of HDI.

Desiree Faltine (House): Migrating to NYC from Trinidad in 1969, Desiree was a child of the 70s Disco era who later became a fixture at clubs like Paradise Garage, the Loft, Zanzibar and Bond St. International. Desiree opened her own club in 1995 called Behind Closed Doors and was the host of the First Annual Club House Jamboree in Brooklyn. She has been dancing in the underground NYC scene for over three decades and HDI is proud to welcome Desiree as an HDI judge in 2010.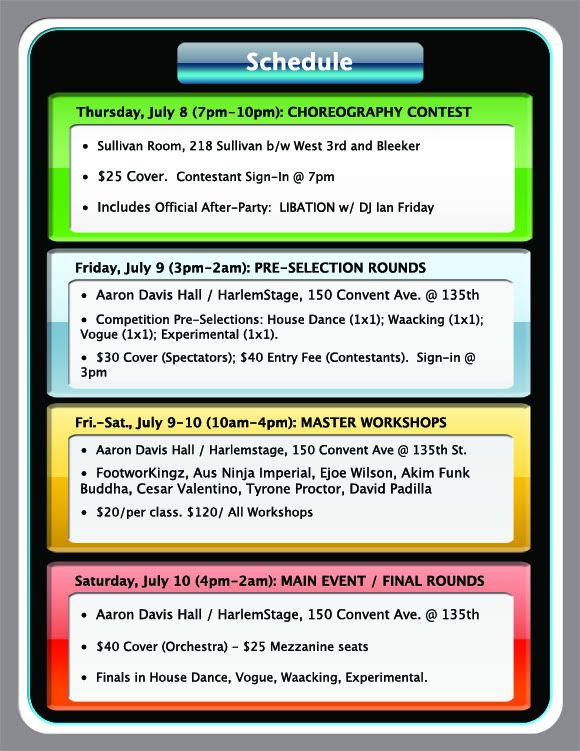 2010 SCHEDULE



New York City

____________________

Thursday, July 8 (7pm-10pm)

CHOREOGRAPHY CONTEST + OPENING CYPHERS

Sullivan Room, 218 Sullivan St. b/w West 3rd and Bleeker

Contestant Sign-In @ 7pm

Official Afterparty: LIBATION w/ DJ Ian Friday (10:30pm-4am)

$25 Cover (Includes Libation)


____________________


Friday, July 9 (3pm-2am)

PRE-SELECTIONS


House Dance (1x1) | Vogue (1x1) | Waacking (1x1) | Experimental (1x1)

HarlemStage - Aaron Davis Hall

150 Convent Ave. at 135th Street

Contestant Sign-In @ 3pm

$30 Cover (Spectators) / $40 Entry Fee (Contestants)



____________________


Friday-Saturday, July 9-10 (10am-4pm)

MASTER WORKSHOPS

FootworKingz

Ejoe Wilson

Aus Ninja Imperial

Tyrone Proctor

Akim Funk Buddha

Cesar Valentino

Yugson Hawks

David Padilla

$20 per Class / $120 for all Eight Workshops


____________________


Saturday, July 10 (4pm-2am)

FINAL ROUNDS / MAIN EVENT




House Dance (1x1) | Vogue (1x1) | Waacking (1x1) | Experimental (1x1)

HARLEMSTAGE - Aaron Davis Hall



150 Convent Ave. @ 135th St.

$40 Cover ($20 for Mezzanine)



PACKAGES

____________________

2-DAY PASS (Package A): $60

Pre-Selections Rounds (Friday Night)

Main Event (Saturday Night)

BUY NOW
____________________


3-DAY PASS (Package B): $80

Choreography Contest + Libation Afterparty (Thursday Night)

Pre-Selections Rounds (Friday Night)

Main Event (Saturday Night)

BUY NOW

____________________


ALL-ACCESS PASS (Package C): $150

Choreography Contest + Libation Afterparty (Thursday Night)

Pre-Selections Rounds (Friday Night)

All Workshops (Saturday Afternoon)

Main Event (Saturday Night)

BUY NOW

____________________


ALL-ACCESS PASS (Package D): $250


All-Access (same as Package C) +

VIP / Backstage Access on Friday & Saturday

HDI DVD + HDI CD Mix

HDI T-Shirt




COMPETITION INFO (Freestyle Categories)

• $40 entry fee per category:

House (1x1) | Vogue (1x1) | Experimental (1x1) | Waacking (1x1)

• Contestants must report to designated location at 3pm on Friday, July 9.

• Contestants may enter more than one category and must pay $40 fee for each category.

• Competition registration includes admission to the preliminary rounds on Friday, July 9. Contestants gain free admission to final rounds on Saturday, July 10 if they qualify to advance.

• $1000 prize in each category. Prize money is payable by check from House Dance International LLC and all prizes will be paid by 7/31/10.

• Contestants may not select or request their own music.

____________________

COMPETITION INFO (Choreography Contest)


• $20 entry fee per dancer - also includes admission to LIBATION afterparty. Contestants must report to Sullivan Room at 7pm on Thursday, July 8.

• Number of Dancers. Two (2) Minimum / Seven (7) Maximum

• Acceptable Dance Styles. Choreography should be synchronized to House music or musical derivatives of House, including Broken Beat, Tech, Drum n Bass, Nu Jazz or Afro Fusion, etc.. In other words, try to keep in the thematic structure of the HDI event: to celebrate underground styles of club dancing.

• Number of Compositions. To win $500 prize, Groups will be required to perform two (2) separate pieces.

• Time Limit of Compositions. A piece may not exceed three (3) minutes.

• Musical Selections. Choreographers must provide their own musical selections. Please provide one CD, clearly labeled with Group name. Track 1 should be the first musical selection; Track 2 should be the second musical selection.

• Judges' Criteria. Groups will be scored on a mathematical scale according to the following criteria: Musicality / Rhythm; Vocabulary; Originality / Creativity; Charisma; Synchronicity / Transitions; Staging / Blocking; and Costume Design

____________________

REGISTER NOW

HOUSE DANCE

VOGUE

EXPERIMENTAL

WAACKING

____________________

MASTER OF CEREMONIES

EJOE WILSON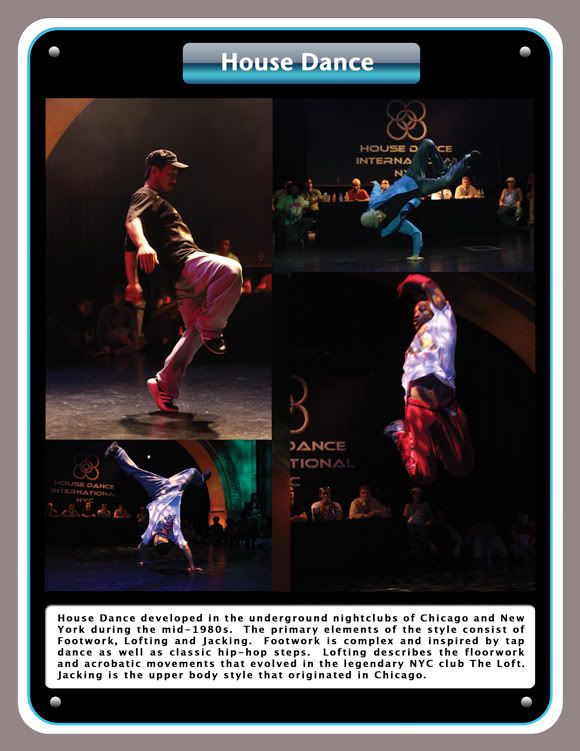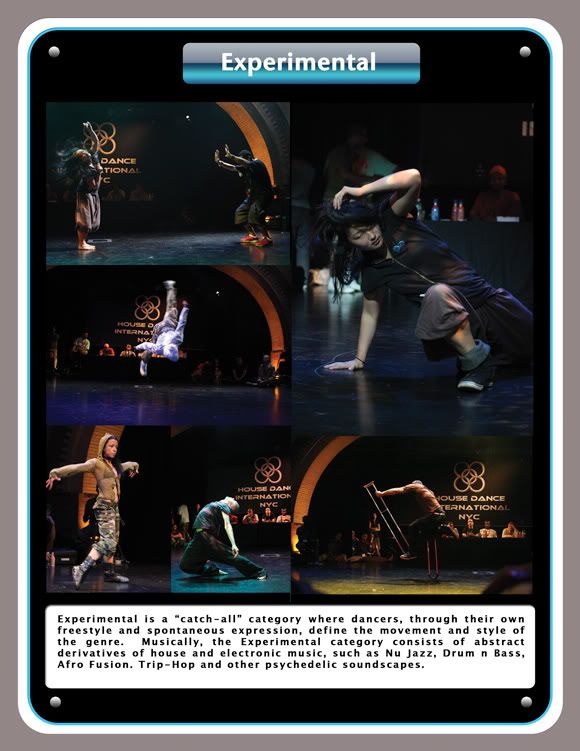 Interested in becoming a House Dance International sponsor?
E-mail RED@theREDness.com for opportunities, details and packages.

Visit the House Dance International website:
http://www.housedancenyc.com

Join the House Dance International network:
http://www.housedancers.com

Join House Dance International on Facebook:
http://www.facebook.com/housedancenyc

Join House Dance International on Youtube:
http://www.youtube.com/housedancenyc


Join House Dance International on Myspace:
http://www.myspace.com/housedancenyc

Join House Dance International on Flickr:
http://www.flickr.com/photos/housedancenyc
---
www.theREDness.com
www.facebook.com/rednessevents
www.facebook.com/soulgasmnyc
www.soulgasmmusic.com
www.facebook.com/housedancenyc